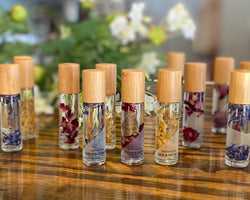 Sophie and Rose
Perfume Oil
Made with 80% organic MCT (fractionated Coconut Oil) and fragrance oil.
Our 10 ml glass bottle has a stainless steel roller ball for ease of application. Perfect size for tossing in your purse, gym bag, carry-on, or wherever you need to freshen up!
With a 10 ml bottle, you will be able to easily apply as needed.
  Handcrafted
  Alcohol-Free
  80% Organic MCT oil (fractionated coconut oil)
  Paraben Free & No Phthalate