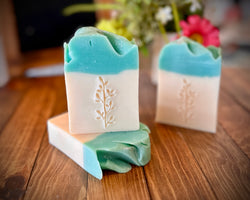 Sophie & Rose
Winter Wonderland
This handcrafted soap is scented with the fragrances of a fresh spring day in the woods. Its special formula creates a creamy and smooth lather for a luxurious shower experience. Its natural oils and glycerin deeply moisturize and refresh the skin, leaving it feeling nourished and hydrated.
Notes of light green, pineapple, sweet cotton candy, light woody notes, ozone, pine needles and clove blossoms create this amazing spring woodland scent.
Preservative Free
Clean fragrance (paraben and phthalate free)
Each Bar is Handmade by Our Artisan Soap Maker
For all skin types: Can be used for face, body soap, or shaving. Great for men, women, and teens.
Test rigorously on family & friends! :)
Bar weight: approx. 5 ounces
Size: approx. 3.5" x 3" x 1"
(Bars are cut by hand. The weight of each bar may slightly vary.)
Skin Loving Ingredients:   Olive Oil, Coconut Oil & Shea Butter
Like all natural soaps, be sure to store in a dry place for maximum usage.