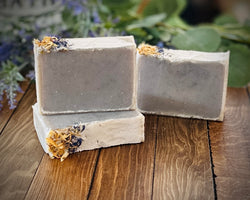 Sophie and Rose
Old Fashion Tallow (Lavender & Citrus)
Highlights
Handmade lavender and citrus essential oil blend, naturally creamy white tallow soap
Materials: Saponified Grass Fed Tallow, Distilled Water, Natural Retained Glycerin

Tallow produces a nice very hard, long-lasting bar of soap (increasing shelf life).
Description
* For sensitive, dry, cracked skin.
* Moisturizing and gentle.
* Creamy lather.
* Hard, long-lasting bar
* Noted for helping skin issues such as eczema, psoriasis.


Tallow makes a superior soap allowing for gentle cleansing and does not clog pores! This soap made with 100 percent oils from tallow, no other base oils are added. Making this bar ideal for those with sensitive skin and/or prone to nut and seed allergies. Tallow provides a gentle cleansing, preserving your skins natural oils. 


Size: 2.5" wide x 3.5" height x 1" thickness, weight: 4.5 ounces. (varies due to moisture evaporation from the bars during curing process.